[ad_1]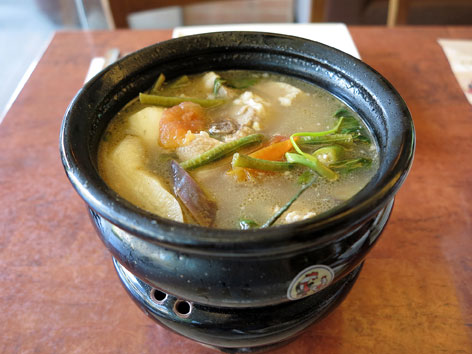 What: Sinigang ("see-nee-gang") is the sour soup you shouldn't miss in Manila, hailed by noted food critic Doreen G. Fernandez as "most representative of Filipino taste." Standard sinigang usually includes cubed pork belly and a plethora of vegetables—okra, labanos (a type of winter radish), kangkong (water spinach), gabi (taro root), snake beans, tomatoes, onions, and more—cooked in a clay pot with a sour fruit, the dish's star ingredient. It's usually tamarind, imparting a distinctly tangy flavor, but it might also be bilimbi, guava, unripe mangoes, or even santol, all of which are abundant in the Tagalog-speaking region (where Manila is). Emerging Filipino food experts seem to think that sinigang is one of those indigenous recipes that survived colonization, with its various ingredients easily adjusted to whatever proteins (fish, shrimp, pork) and vegetables were readily available. The curious mix of components results in a stew that's savory and sour at the same time, and full of healthy vegetables—plus, you know, fatty pork belly.
Good to know: Some people use sinigang to describe a method of cooking, because the dish comes with so many variations. As mentioned, the souring agent can be one of several local sour fruits, the vegetables tend to vary, chilies may be added or omitted, and the soup is sometimes thickened with additional gabi. For the protein, you might use fish, prawns, or even beef, but rarely chicken: For the latter, another soup exists called sinampalukang manok ("see-nam-pah-loo-kang mah-nok," chicken cooked in sampalok, the local term for tamarind), which uses tamarind leaves instead of the fruit for sourness.
Where: Casual in style but consistently good in quality, Max's Restaurant (632-556-0521; multiple locations including ground floor, main mall, SM Mall of Asia, Pasay City, map) is a Filipino-style fast-food joint, a semi-formal dining restaurant, and a delivery service rolled into one. Its combo meals are popular with office types who are on the go, while its "per table" set menus cater to groups of five to 10 out for Sunday lunch or a birthday dinner. And if you're stuck indoors during the rainy season, you can have sinigang delivered to your doorstep.
When: Daily, 10am-10pm
Order: The sinigang na baboy (literally, "sinigang that is pork") costs Php 269 and is good for sharing. The soup itself is rightly sour and savory, and refreshingly light—perfect even for Manila's 33°C-degree weather. The meat was very tender and tasty, having absorbed some of the sourness. There were slices of eggplant, okra, snake beans, labanos, gabi, onions, and tomatoes, plus a single finger chile that was harmless unless squeezed or smashed to release its heat. This dish is presented here in a setup mimicking the traditional clay-pot-and-stove ensembles that are common in the region: A tea light in the "stove" keeps the soup warm throughout your meal, letting you enjoy other yummy things from the menu. Definitely also try the spring chicken—an "adolescent-size" chicken that is tender and juicy, fried in Max's secret way that's made the restaurant popular—with camote (sweet potato) fries.
Alternatively: Sinigang is ubiquitous in these parts, so don't be surprised to see it in any restaurant that serves a good range of Filipino food. Try Kanin Club (632-621-6109; at Ayala Triangle Gardens, Makati, map), where options for sinigang include beef ribs, prawn, or pork belly. In the Greenbelt Makati area, Sentro 1771 (multiple locations including the 2nd floor of Greenbelt 3, Makati, map) does its own version using corned beef, which local foodies insist is a must.
[ad_2]

Source link